Elofit LIGHT Electrofusion Welding Machine 110 Volt AC
HEAVY DUTY WATERPROOF PELICAN HARD CASE
LIGHT MODEL: 6 INCH MAXIMUM WELDING CAPACITY
This unit has a 6" Coupling welding capacity.
These LIGHT machines can weld all sizes of Elofit Branch Saddles and Tapping Tees.
This machine weighs 40 lbs which is over 30 lbs lighter than the large capacity model.
STANDARD CASE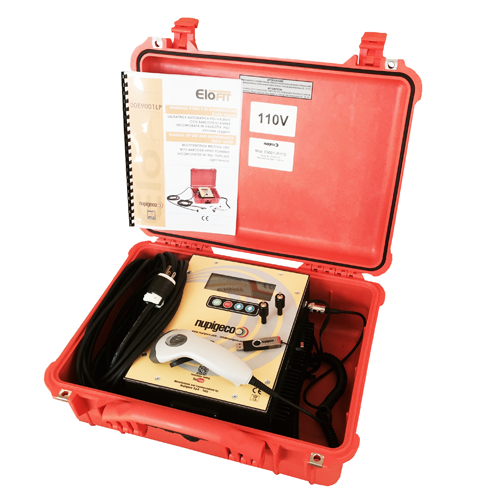 Electrofusion Processor is manufactured in compliance with UNI 10566 standards and conforms to CE requirements. The unit has a barcode scanner compatible with standard ISO 13950 Barcodes. Data can be entered manually or automatically by scanning the barcoded fitting. During the welding cycle, the backlit display shows the heating time, power consumption and energy consumtion. The welding unit has the capacity to store information on 500 welding cycles and to communicate with a PC using the supplied memory card and data download software.
This machine can scan and fuse all major brands of electrofusion fittings that require heating input voltage up to 42 volts.
Part Number 12E9001LP/110 HD
Machine Welding Capacity - 1/2" CTS to 6" Couplings and all sizes of tapping tees and branch saddles (Up to 42 Volt Cycles)
Includes:
HEAVY DUTY WATERPROOF MILITARY HARD PLASTIC TRANSPORT CASE (PELICAN)
• User Manual Quick Guide and USB Memory Stick with Data Download Software
• PELICAN HARD PLASTIC STRUCTURAL WATERPROOF CASE
• Handheld Barcode Scanner
• Connection Cables with 4mm connector pins and adapters for 4.7mm pins.
• Manual Hand-Held Electrofusion Pipe Scraper
• Standard 110volt 20amp Wall Plug
The internal software allows the user to:
• Download welding reports to a PC with the supplied USB 2GB Memory Stick and Software
• Record the tracability code on the fitting
Technical Information:
• Conforms with CE requirements
• Conforms to UNI 10566 Standards
• Lighted Display features 4 lines of information.
• Ambient Temperature sensor
• Maximum Power: 1000 VA
• Minimum Power Supply: 3 VKw
• Output Voltage: 5 to 42V
• Includes Both 4mm and 4.7mm Fitting Connection Plugs
• 9 Foot Long Welding Cable
• 12 Foot Long Power Cable with 20amp Standard 110 volt wall plug end
1 Year Manufacturer Warranty
MOST COMMON CONNECTION PIN SIZES PER MANUFACTURER:
ELOFIT ELECTROFUSION FITTINGS 4mm
PLASSON ELECTROFUSION FITTINGS 4mm
FRIATEC ELECTROFUSION FITTINGS 4mm
TEGA ELECTROFUSION FITTINGS 4mm
CENTRAL ELECTROFUSION FITTINGS 4.7mm
INNOGAZ ELECTROFUSION FITTINGS 4.7mm
DURAFUSE ELECTROFUSION FITTINGS 4.7mm
MTD TRI-FUSION ELECTROFUSION FITTINGS 4.7mm
MOST OTHER BRANDS ARE ALSO CAN BE FUSED WITH THIS MACHINE
WATCH A VIDEO OF THIS MACHINE IN ACTION!