Jackman Socket Fusion Welder Complete Set 3" IPS - 4" IPS

Jackman Fusion JAC-125 is a manual Socket Fusion welder for welding Socket Fusion style fittings in various materials including, HDPE, MDPE, PPR, PP, and PVDF. The welder is composed of a heating plate, digital temperature control display screen, and a comfortable nylon plastic handle shell. Digital Adjustable Temperature Regulator (Factory Set at 500 Degree F). 110/120 Volt Power. The JAC-125 3IPS 4IPS Set provides the JAC-125 Welder along with all the tools and supplies you need to weld 3" IPS to 4" IPS.

Features
Electronic Temperature Control

Digital Temperature Display

Analog Thermometer

"RDY" and "HEAT" Indicator lamp

The analog thermometer on the welder is a helpful secondary measure to confirm and ensure temperature accuracy.


Everything you need to fuse 3"- 4" IPS Socket Fusion fittings ( Free Shipping Lower 48 States )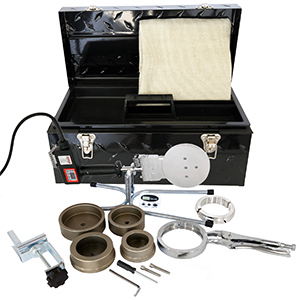 Jackman Socket Fusion Set Includes:
Jackman Socket Fusion Welding Heating Iron ( Supplied with fork support Stand, Allen Wrench, and Pins For Sockets)


Socket Heating Adapters ( 3" IPS and 4" IPS)


Cold Ring Combination Clamps ( 4" IPS Pliers with 3" IPS inserts)


Large 22" Metal Storage Tool Box


Work Bench Mounting Clamp


Insulated Cold Weather Heating Bag



Fusion Timer
Specifications
Working Temperature

392-534

°

F ± 1% (200-279

°

C ±1%)

Automatic Temperature Regulator

500

°

F

Power Supply

110/120 V (60) 50 Hz

Rated Watt

1200W

Working Range

1/2" IPS - 4"IPS

Materials To Weld

HDPE, MDPE, PPR, PP, PB, PVDF

Set Weight

35 lb

Welder Weight

7 lb

Welder Dimensions (LxWxH)

18" x 6" x 2.5"

This set is equipped with everything you need to weld both 3" IPS and 4" IPS, However The JAC-125 has a welding size range as listed below.

Sizes included in this set are listed in Red.


JAC-125 Working Range
CTS
IPS

1/2"

1/2"

3/4"

3/4"

1"

1"

1-1/4"

1-1/4"

1-1/2"

1-1/2"

2"

3"

4"



Jackman Fusion Equipment www.jackmanfusion.com