Butt Fusion Flange Adapter 4" IPS, DR11

(Flange Adapter Only - IPS Backing Ring Sold Separately.)

Molded Butt Fusion Flange Adapter DR11, PE 3408/4710. DR11 200psi @ 73 Degree F. AWWA, ASTM D2513, Astm D3261, Astm D3350, Cell Classification 445574C. Compatible with PE3408, PE3608, PE4710, PE100 Pipe and Fittings. ISO-S5

For use with Water, Sewer, Gas, Geothermal and other Industrial Applications.
ASTM F-714
NSF Standard 61 Listed Resin, For use with potable water.
About EloFit Hdpe Fittings:
ELOFIT fittings are manufactured and certified by the most prestigious international certification bodies. They comply with the provisions of the National Regulations for gas distribution networks and water for human consumption.
ELOFIT fittings are produced by injection molding or fabricated from High Density Polyethylene (PE100) and achieve outstanding performance in terms of:
Resistance to corrosion

Resistance to stray currents

Resistance to impact

Resistance to chemical agents

Abrasion resistance

Resistance to micro-organisms

Non-toxicity

Reliability for more than 50 years

ELOFIT fittings are suitable for the conveyance and distribution of drinking water, alimentary fluids, gaseous fuels, industrial fluids, compatible chemicals, as well as for drainage and sewerage, wastewater treatment, irrigation, fire protection systems.
FEATURES AND BENEFITS OF
Elofit HDPE PIPE FITTINGS:
• Lightweight
• Corrosion, biological and chemical resistant
• Superior flow characteristics
• Heat fusion joining for a leakproof system

Product Spec Sheet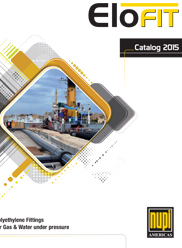 PPI Flange Tightening Manual