Jackman 26 Butt Fusion Machine 2" IPS - 6" DIPS Capacity
THIS MACHINE ONLY SHIPS FREIGHT. FREE FREIGHT DELIVERY TO THE LOWER 48 US STATES.
Note: This unit must be shipped Freight and typically ships out the Next Business Day. Machines are IN STOCK at our Duluth MN Warehouse.
Overview
The Jackman 26 plastic pipe butt welding machine is a mechanical butt fusion welder for joining various types of plastic pipe including HDPE and PPR. The Jackman model 26 Butt Fusion Machine is designed to butt fuse pipe sizes 2" IPS to 6" DIPS and MDPE (63mm to 200mm). It is easy to operate and incorporates a state-of-the-art heating plate, 4 clamp machine body, electric facer, and storage stand.
The Jackman 26 butt welding machine is intended for butt fusing HDPE or PPR thermoplastic pipe and fittings.

Jackman Fusion Equipment 2 Year Warranty.
The main 4 clamp machine body is designed to fuse 200mm pipe without the need of inserts. Additional inserts are available to fuse the following pipe sizes: 2" IPS, 3" IPS, 4" IPS, 4 "DIPS, 6" IPS, 6" DIPS, 63 mm, 75 mm, 90 mm, 110 mm, 125 mm, and 160 mm.
Click Here to view Jackman 26 INSERTS CLAMPS SOLD SEPARATELY

Machine Contents
1. 4 clamp mechanical machine body with digital load cell pressure gauge.
2. Electric facer 110 volts 800 watts.
3. PTFE Non-Stick Coated Heating Plate w/replaceable plates.
4. Facer and heating plate storage stand
5. 5mm and 6mm Hex/Allen Drivers

Machine Weight
- Carriage weight 105 lbs
- Heater, Facer, and Stand combined weight 48 lbs



Download Jackman 26 Butt Fusion Machine Manual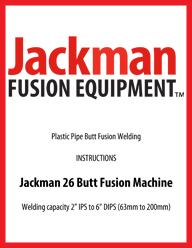 Butt Fusion Machine Demonstration Video: